Slide
Timetable
Regular rides every weekend from May to October. During the summer holidays also on Wednesdays. Alternating steam and diesel engines. Regular departure of trains at 9:45 a.m., 11:00 a.m., 12:15 p.m., 1:30 p.m., 2:45 p.m. and 4:00 p.m.
The length of one route there and back is about
The time required to drive there and back is about
The following regular rides
Outgoing
---
From station Kolín – Sendražice


(Central station)

From station Býchory


(Final station)

9:45 a.m.
10:10 a.m.
11:00 a.m.
11:25 a.m.
12:15 p.m.
12:40 p.m.
1:30 p.m.
1:55 p.m.
2:45 p.m.
2:10 p.m.
4:00 p.m.
4:25 p.m.

Operation hours

The trains depart for the regular weekend and all bank holiday trips from 1st May to mid October at 9:45 a.m., 11:00 a.m., 12:15 p.m., 1:30 p.m., 2:45 p.m., 4:00 p.m. Besides, we open for the Easters, the first weekend of December for the "Hell Rides", for the Year End festive rides. During summer holidays we offer the Diesel Engine trips on very Wednesdays.

Tickets are to be bought in the station building before the train leaves. We only accept cash payments.
Announcement on change of operation
#
Dear visitors,
Because of the increasing prices of coal, we are forced to take action about changes of traffic when the weather is unfavorable. (Steam engine change to diesel engine)
The unfavorable weather means: the weather forecast of persistent rain, very strong wind or extremely high temperatures.
We ask you, to make sure it does not happen this change before the weekend begins.
Thank you for your understanding
Rides in 2022
#
---
---
Useful tips and information
#
---
Parking
It is possible to park in the area of Sugar beet railway. We have more than 50 parking lots. Also it is possible to park here with a bus. In the end of the parking lot is a roundabout, so you may easily turn your car. In case of a huge event it is also possible to park in front of our complex.
---
Tickets
Tickets may be bought only at our cash desk in the Railway station building in Kolín, Sendražice. Tickets are always return tickets, however there is a possibility to buy a one way ticket too. Prices may differ according to the type of the locomotive. You may also travel from the station Býchory and buy a ticket after arrival to the main station. Please note that it is possible to pay only in cash.
---
Toilets
Toilets are placed on the first floor of the main building. You may also find a barrier free WC.
At the Býchory station are placed two chemical toilets, also barrier free and. All toilets are free.
---
Train rides
Each train goes to the final station Býchory. You can get off at the final station and stay there until the arrival of the next train (the last train leaves at: 16:25). Tickets are return and are valid for any return train. The train can be boarded or disembarked during the journey at the Černý Most, Výrovna and Mlýnek stations. The stops are at the sign, for the ascent pass the information to the conductor, for the boarding clearly wave or pass the information to the conductor of the previous train.
---
Reservation of seats on the train
We provide train reservations for groups of 15 or more people only. You can make a reservation by phone: +420 602 655 268 (at least 3 hours in advance) or by email: info@reparskadrazka.cz (at least 1 day in advance). You will find special trains on our offer.
---
Raiding trains by cowboys
Real cowboys on horseback attack trains at bigger events. These are the Opening Ceremony, the Cowboy Closing of the Holidays and Řepánek's Festival. The cowboys leave after the train at 14:45 and with a magnifying glass, the last train at 16:00 is no longer overrun.

---
Kolín-Sendražice main station
For kids
Trampoline for children, playground with climbing frames and sandpit. You can enjoy some games with the ball, we have goals also. You may borrow various game equipment and things for the sandpit from us. Younger children can play with children's toys at the museum. The larger ones will surely be amazed by our model track with a lot of details and a lot of tasks (finding elements on the track)
For adults
A museum about the history of the beet groove, the reconstruction of KŘD and the cultivation of sugar beet. The museum is equipped with old tools and exhibits with a railway theme. Tickets and souvenirs of all kinds can be bought at the museum.
For everyone
At the station there are two buildings for locomotives and wagons. The wagon depot is used to protect wagons from weather conditions. The depot was completed in 2020, it is a completely unique half-timbered building built according to earlier techniques. The building is used for repairs and storage of locomotives, the most important works for maintaining the operation of KŘD take place here. It can only be visited with authorized personnel.
---
Refreshments in Kolín-Sendražice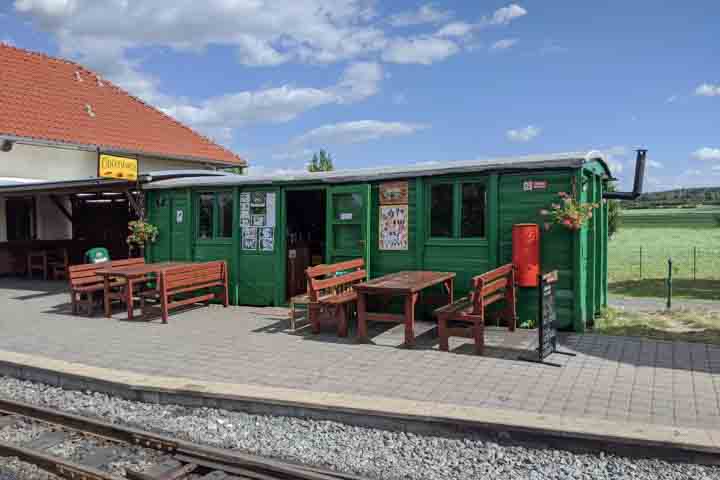 In our main station we offer food and beverages for snacks and lunch. From drinks for example: draft beer and kofola, Italian coffee (Espresso, Latte, Cappuccino) in the summer we also make iced coffee and we have a large selection of bottled water and much more. According to food we offer: hot dogs, sausages, meatloaf, potato pancakes, french fries, croquettes, fried cheese and fried steak. In the hot summer popsicles come in handy.

---
Býchory station
In the Býchory station you will find: climbing frames for children, a sandpit, a bouncy castle (only for larger events), Mr. Řepánek, a ball and rope playground. For sitting there are two small and one large shelters. The info boards describe the nature and the history and present activities of KŘD. Refreshments are only open for larger events. The area is located in the forest, the area is suitable for walks in a nice and quiet nature.
We recommend getting off and staying here for the next train (that's about 1 hour and 15 minutes). All purchased tickets are valid for the return journey by another train.
---
Refreshments in Býchory station
Refreshments in Býchory are only open for large events! These are the Opening Ceremony, the Cowboy Closing of the Holidays and Řepánek's Festival. We offer here: sausages, biscuits, coffee and tea, bottled water, beer and more.